Our donors are an amazing community of people who have felt a personal connection to the destruction caused by Nepal's 7.8 earthquake last year, and also to the magic of Nepal's culture and the warmth of its people. Last April, you joined us in our campaign to help after the devastating earthquake. Together we can be proud to have supported hard-working families through the worst time of their lives. For many families, that time is still not over…
April 25th marks one year since Nepal's major quake, followed by over 400 aftershocks and a 5-month political blockade of essentials such as fuel, medicine, and food. This month, we are asking you to join together once again to honor the indomitable spirit of Nepal's people as they shed the dust of destruction and begin to rebuild homes and lives.
Changing Lives Nepal is working to make communities stronger and more resilient. We are excited about everything we have planned, and we are asking for your continued support for 2016 projects:
Children's Home repairs & volunteer building repairs (to accommodate the 80+ volunteers expected this year!)
Construction of an innovative technical college using natural building methods and intended to give local youth the skill to earn income and rebuild homes using local materials
Rebuilding the family home of an aging couple and their disabled daughter with the help of Nepali 30 boy scouts
Rebuild non-profit office and expand coffee & almond rural farmer programs to create long-term, sustainable income
Be a part of the positive transformation of Nepal…
Changing Lives Nepal is offering a special gift of gratitude for the first 40 people to donate (see details below). We will be sending out a full update on our programs this summer. Thank you for your support, whether financial or in spirit! We couldn't do it without you!
Handmade Mantra Bracelets for Our First 40 Donors!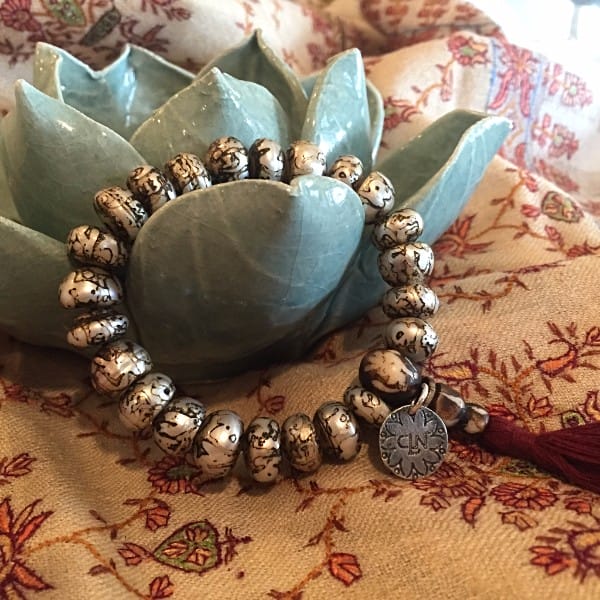 Nepal is famed for handicraft artisanship, and CLN projects have been funded for years through sales of Nepali art and jewelry. We now have a special gift for our earthquake anniversary fundraising campaign: Handmade Mantra Bracelets. We will send one each to the first 40 people who donate either $15+/month in a recurring donation or $250+ in a one-time donation. We hope you wear our bracelet with consciousness of your contribution to the positive transformation in Nepal!
The mantra bracelets have special meaning in Nepal where both Hindu and Buddhist traditions have deep roots through the centuries. With a luminous mother-of-pearl finish, the mantra "Om Mani Padme Hum" is etched by hand into every bead. "Om" is the Hindu symbol for soul and self within—the original vibration of the universe. "Om Mani Padme Hum" is the Buddhist mantra for transformation, wisdom, and intention for enlightenment. It is carved into rocks, painted on monasteries, and even inscribed on the small surface of a bead to help spread compassion and peace in the world.