The long days of summer are here, and we have a short update for you with good news on our projects. We have nearly completed our first natural building model school, have been training farmers in almond tree grafting and the planting of macadamia shade trees for coffee, and have graduated our first trained gem cutters. We also had a dedicated traveler raise over $5000 for children in earthquake affected areas. The overall situation in Nepal remains very difficult, with only 5% of homes rebuilt since the earthquake and yet another new government starting its tenure. We are working to bring innovation and long-term economic self-sufficiency to our project areas and continuing to change lives!

Your donations are being used to empower and protect families across Nepal. Although the earthquake emergency phase is certainly past, rebuilding needs regular financial support, as do our long-term economic initiatives. Thank you all for your donations and check out our donor page in gratitude to you all! We hope this finds you enjoying the abundance and sunshine of summer…

Natural Building & Reconstruction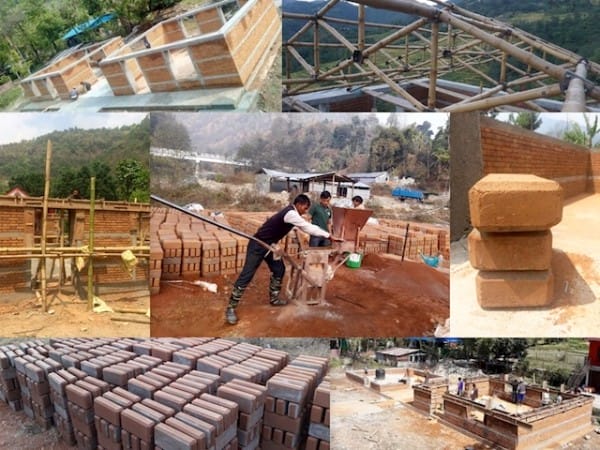 Compressed Earth Brick (CEB) is proving to be a success! By using locally-available materials and providing on-the-job training for local villagers, we are creating skilled laborers who can be employed to rebuild their home communities while bringing a better, more natural building technology to the area.
The bricks are easy to create from local mud, cost-effective, and are producing strong and appealing buildings. The project team has been navigating government approval, reassuring concerned neighbours that the project will not infringe on their land, affirming project plans with communities, and raising the walls, brick-by-brick, while training people in this new method so they can rebuild using CEB for years into the future.
Our approach in bringing a natural building method to rural Nepal is built on supporting local innovation and expertise–and we couldn't do it alone. Nepali architect Nripal Adhikari and the ABARI team have adapted CEB technology for conditions & mud in Nepal and are supervising on-the-job training of local community members. Our long-term partners Neel & Bikash at TEAM Nepal have been providing local coordination, facilitating communication with the community, and identifying villagers for on-the-job training. Kira Kay of Hands With Hands has taken the initiative to conceptualize and drive the project forward at key times and to generate a groundswell of financial and community support. We are honored to call them and YOU our partners. Together, we are bringing a whole new way of building to rural Nepal to provide safe homes as well as jobs in the community. This project is currently funded and we'll tell you more about the next steps and financial need later in the year.
Gem Cutting
60 people, almost half of them women, completed our new 260-hour training program this year and nearly all of them are now employed. The graduates are mostly in their 20's and are highly motivated to pursue work using their new skills. Two groups of graduates have formed and registered cottage industry businesses, one in Kathmandu and one in a remote part of the country and are beginning to sell both locally and internationally. Others are working for jewelry businesses in the capital where the demand for trained gem-cutters is still high. With the initial success of the program, Executive Director Parshu Dahal convinced the national university to begin offering a degree program in Gemology based on the resources in Nepal and the attractive employment available. This is just the beginning–Parshu and his college team have a lot of work to do in developing the courses and curriculum, but the university has approved the program! With the effective partnerships that Parshu developed, our investment in this program was under $2000, and it's generating impressive impact so far. Help us support purchase of additional gem-cutting machines for another $2000.
Organic Almonds
This winter we trained 12 farmers on how to graft almond saplings to a fruit tree base (which is the standard way of growing almonds). We now have 62 farmers with over 1200 trees, and farmers are almost self-sufficient in managing their sapling nurseries as well as how to plant and care for the trees. The almond harvest this year is still small and will produce ~1200 pounds of almonds that families will eat as a source of protein in this area where poverty and food shortages are pervasive. For the longer-term support of the project, Executive Director Parshu Dahal has organized and registered two community farmer's groups with the District Agriculture Development Office so that they will be able to get some government support for small farms. He also developed a partnership with another NGO which will fund expanding the program into 3 new districts. Over 500 new farmers from three districts visited our demonstration plot last year to learn about almonds and see the trees for themselves–interest is growing! We expect more farmers to begin planting, and next year farmers will sell saplings from their nurseries for immediate income. Help us with the training and support of almond farmers for $1500.
Organic Coffee
Over 20,000 coffee seedlings have been planted, and some coffee plants are maturing to the point that we will start to have a harvest next year. At the same time, farmers have learned the critical importance of growing shade trees first to shield the young coffee saplings from sun exposure. Although some shade trees grow quickly, our director's philosophy is, "Farmers will have double benefit if the shade trees are chosen carefully that have good commercial value." Although slower growing, macadamia trees are thriving in our test plots and have high market value. We planted an additional 100 trees this year for both shade and additional income…and we want to plant hundreds more next year! Help us support the purchase and nursery planting of over 120 pounds of macadamia seeds for $1500.
One Woman, 307 Children
After traveling to Nepal in 2016, Taysia Shaffer returned home touched by the dire conditions of life after the earthquake and was motivated to help. She enjoyed the abundance and warmth of Christmas with family and friends in Solana Beach, California, and was reflecting on her good fortune as well as the hardship still faced by families in Nepal. Through our partner TEAM Nepal and Executive Director Neel Thakuri, Taysia identified four small schools near one of our project areas where children were in need of sweaters, shoes, and socks for the bitter cold of winter.

Taysia took the initiative to start a Gofundme campaign where $18 would provide warm clothes and shoes for one child. Spreading the word through family, friends, and co-workers, the Gofundme page was shared with over 250 people, and Taysia successfully raised over $5300 to provide winter clothes for all 307 children at the four schools! In collaboration with Changing Lives Nepal and our local partner TEAM Nepal, the sweaters, shoes and socks were delivered earlier this year.

Individual fundraising efforts such as Taysia's contribute significantly to CLN's ability to support Nepal. We encourage you to consider a personal campaign this year to reach out to your communities, and we are happy to provide you with information and support. One woman motivated to inspired action made a huge difference for over 300 children–and you can, too!
Maya
Maya just turned 10 years old and is starting Grade 4. She has a sometimes serious demeanor that gives way to giggle-fests with the other girls, and she's learning meditation. She also loved dressing up as a fairy princess for a recent dance performance. Here's how she was described this summer: "Maya is a lovely, bright, engaging young girl – she is mature beyond her years and yet continues to maintain her innocence and sweetness. I think she is going to be an outstanding young woman… I love spending time with her. She is very kind and gentle."

CLN continues to support Maya and the orphanage of 45 children every year–special thanks for the long-term commitment of her donor friends!