With 2017 almost behind us, we are looking ahead to next year with excitement…

Plans for 2018:
Construction of a grain mill to make the children's home more self-sustaining and to improve villagers' lives in the surrounding community ($9,000)
Provide gap funding for earthquake reconstruction of the Batase school, grades 1-10 ($5,000)
Continue organic almond and coffee programs ($13,000)

Graft 1000 almond saplings onto peach root stock and train new farmers
Transfer 500 macadamia trees from nurseries to fields for coffee shade
Add dairy cows as self-sustaining income generation component to help cover the cost of coffee field staff and workers
Expand care of coffee plants and provide training to new farmers
Garner new funding local sources to expand almond program in 3 new districts

Continue to support Maya's orphanage and education ($2,000)
This is the time of year when we ask you to be a part of our community, be a part of our success, be a part of changing lives in Nepal! Full details on our 2018 programs is below.

Please join with us and make a donation today. Your generosity makes a profound difference in the world!
Grain Generates Income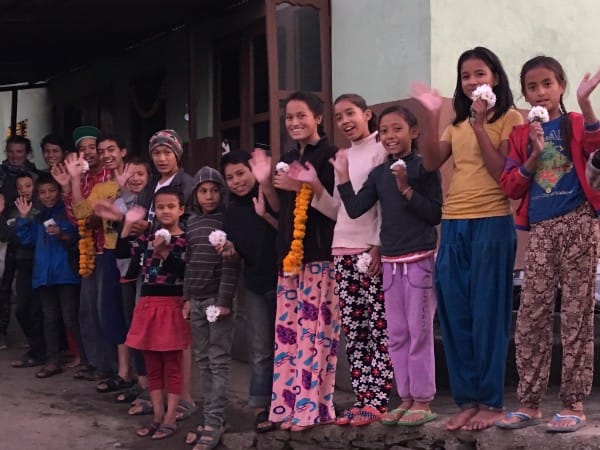 Running a children's home requires constant expenses for food, clothing, books, medicine, and more. To help the home be more self-sustaining in the years to come, our goal for 2018 is to construct a community grain mill at the edge of our garden. People in nearby villages currently walk 5 hours round-trip to the closest grain mill. Building a local grain mill will benefit both the local community and also the Children's Home. Villagers would save 3 hours walking (and carrying heavy loads) if the mill were closer to their homes–150 houses or more would benefit and the children's home would continue to build a positive relationship with the surrounding community. The traditional arrangement in Nepal is that people give 5% of what they grind to the mill (in this case, to the Children's Home). This means the home will generate fodder for its animals, flour to cook with, and extra grain they can sell for cash to cover food expenses. The total cost of the grain mill is $9,000, including the building, the grinding machine, and running the electricity supply. In return, the mill should produce a value of about $5,000-$6,000 annually (in grain, not cash). This project is a perfect fit for CLN because it helps to make the children's home self-sustaining for the long-term and benefits the home directly as well as the surrounding community households. We are excited about this idea and would love your support to help make it a reality!
Batase School Reconstruction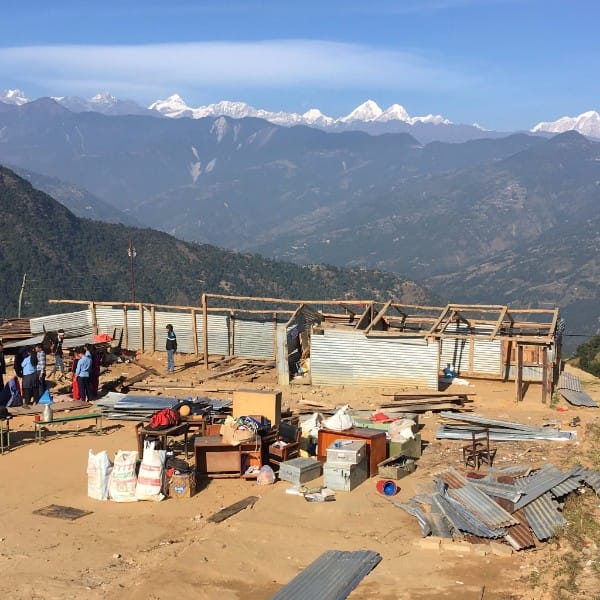 Changing Lives Nepal has worked with the Batase School for over 9 years, having provided first a water tap, then wood to help finish school classrooms, then school computers. Sadly, all of this was destroyed in the 2015 earthquake. The active involvement of this community has always been impressive. During the field visit this month, we saw that involvement yet again. The principal, the teachers (both male and female), the students, and some paid construction workmen were all working together to break down the temporary tin and wood school classrooms and carrying the parts to a new location nearby. It's rare to see people in positions of power such as principals and teachers engaged in manual labor like this, but this community is always dedicated and active. Their hope is to construct a new school on school property but it will take more than a year (possibly two), so classes need to continue in temporary huts.

The school is caught in a difficult position right now. CARITAS (Swiss & German development agency) is the international agency assigned to rebuild schools in this region. Batase qualifies for a new school, but Caritas has strict rules about the construction— fixed building design, required percentage of open space, and they make absolutely no contribution to acquiring necessary land. The School currently does not have enough land for CARITAS to approve the reconstruction. As the deadline to commit the land approaches, the school is forced to either pass on getting a new school built or to commit to acquiring the necessary land. With 10 grades and 185 students, they are trying to figure out how to raise money to pay for the land, and time is running out.
Batase Principal Jyam Bahadur has taken the initiative by approaching local development projects for contributions and has secured $5000 in donations. Changing Lives Nepal would like to provide an additional $5,000, given our long-term relationship with the community and their consistent motivation and hands-on involvement. At CLN part of our mission has been to provide gap funding when local partners are able to secure funding for a project but find that the funding doesn't cover everything needed. Without a new school, older students would be forced to walk more than 2 hours to the nearest school at the bottom of the mountain. In years past, students dropped out of school because of the distance to a secondary school, which is why we helped to support Batase school classroom expansion years ago and why we continue to support the 185 students now. We need your help to complete the land acquisition and get Batase School rebuilt.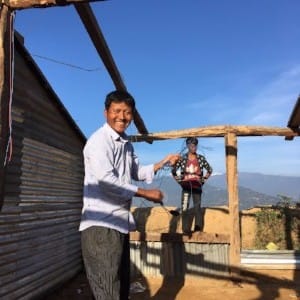 Coffee & Almonds
Organic cash crops require years of investment before the plants mature and begin to produce. Building a sustainable rural economy is critical to improving the lives of farmers and families. These projects also provide attractive earning opportunities for youth, helping to counterbalance rapid urbanization and the exodus of young workers to foreign countries. It remains challenging to fund such long-term investment in organic agriculture, but we believe these programs will change lives for decades to come! Support us in grafting 1000 almond trees, planting 500 macadamia saplings in the field, expanding our coffee nurseries, and bringing dairy cows to the coffee farm to provide extra fertilizer as well as generate income to cover the staffing costs. $13,000 will support both programs for another year.
A key part of our mission at CLN is to provide seed money to launch new programs. Unproven ideas for programs are the hardest to fund, and we have consistently invested in such innovation with great results. Proving that almond trees can be grown in this area has enabled Executive Director Parshu Dahal to attract the attention of a new local funder, which contributes to the long-term sustainability of the project. Beginning in 2018, Forest Action Nepal will help support the almond project through our partner SODEC and expand the program. They will pay staff and farmers to deliver grafted trees and plant management training to new farmers in 3 new districts. Program expansion, paid work for our early farmer participants, proof of concept, and a new funding partnership…big success for the almond program!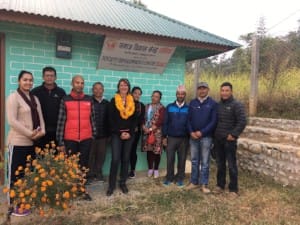 Maya and Orphanage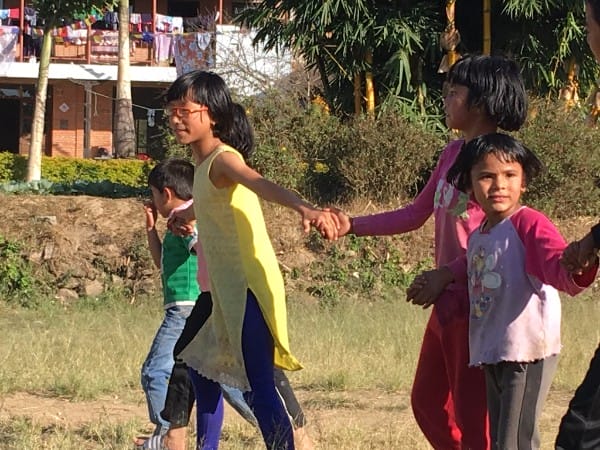 At Changing Lives Nepal, we continue to make an annual donation to Maya's orphanage for its running costs as well as contribute to the education fund for future studies. The orphanage has taken in 13 new children since the earthquake, and Maya is currently in Grade 4. Please help to support this project: just put "Maya/Orphanage" in the special instructions when you make a donation.