Back and better than ever: Batase School has been rebuilt after the 2015 earthquake, plus a hostel has been added!

CLN has a long history with the Batase School, and we were heartbroken when the school was leveled in the 2015 earthquake. The school has 185 students across 10 grades and serves as the only secondary school for a wide area. Children come from different villages all around to study here, with some children walking an hour each way to and from school.

In 2009, CLN first gave funds for doors and windows to complete school classrooms that the community had otherwise built from their own resources. We went on to help repair the water tap so that students had access to clean drinking water, and in 2014 Nancy's daughter Bethany raised money for a computer lab as part of a senior high school project.

The earthquake in 2015 destroyed all that progress and much more. The new classrooms, the water tap, the faculty office room, the computer room, the entire school—all of it was destroyed in less than 3 minutes, along with most of the surrounding homes. Weeks after the earthquake, classes resumed in a tin-roofed temporary structure that was too hot, too cold, too loud, and definitely too small.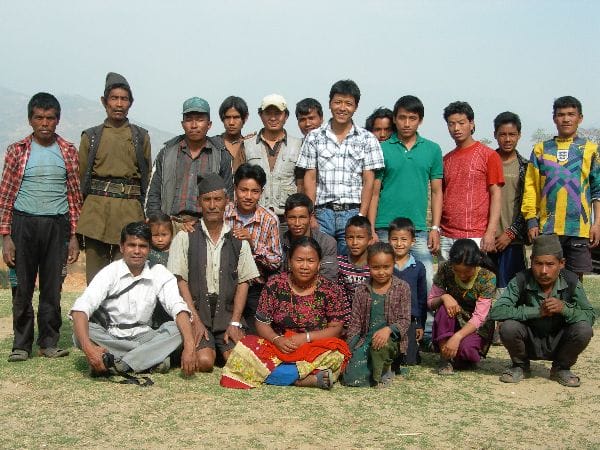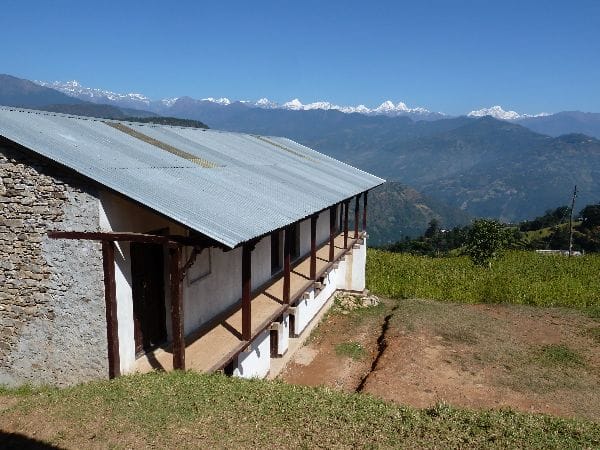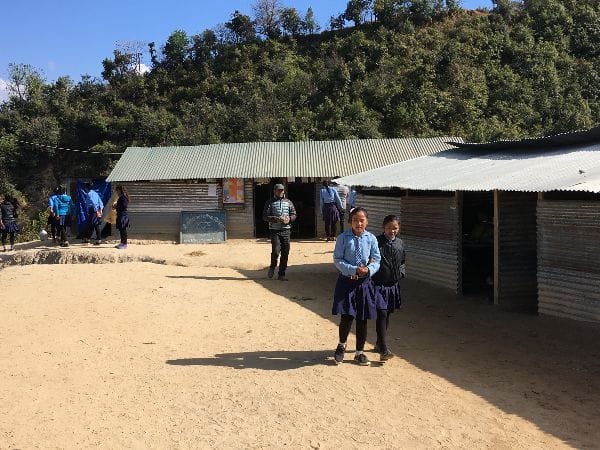 Students have studied in corrugated tin temporary classrooms for more than 3 years.
Last year a large international non-profit, CARITAS Switzerland, was ready to reconstruct the school with a seismically safe building. Due to a variety of rules and regulations, CARITAS would only rebuild the Batase school if the local community could provide more land than the school currently had…and CARITAS would not pay for any land purchase. If the school could figure out how to buy the adjacent land from the local community, they would have a brand new, earthquake-safe school with enough classrooms for all 10 grades plus a library, a staff room, a computer room, and a hostel.
It was impossible for the community to say no, but figuring out how to accomplish the land purchase was a big challenge. The subsistence farmers with land next to the school could not afford to donate their fields—they needed to sell the land so that they could purchase other fields. The school didn't have any money or resources to purchase the land. With only a few weeks to come up with a solution, all the teachers agreed to buy the adjacent land by paying for it with the government money sitting in the school's bank account to pay their salaries for the next 3 months! It was a huge risk and no one knew if they would get money from somewhere else to repay the account and pay everyone their salaries. Many teachers, students, and families were still living in makeshift shelters while trying to rebuild their homes as well—no one could afford to go without pay, but the community came together to ensure their children would have a new school.
Deana visited to see the situation in the village and talk to School Principal Jyam Bahadur. CLN was ready to help support the school through this financial dilemma— we are unusual in that we give money for difficult-to-fund parts of projects. This type of gap funding is critical to the success of larger projects and is often the type of funding that other donors won't cover. In this case, CARITAS was prepared to build a $300,000 school, but only if the community could come up with almost $31,000 for the land. CLN acts as a bridge between projects in Nepal and donors in the U.S. We are generally able to explain these complex situations in order to help garner gap funding. CLN also makes early commitments to funding which can help to bring in more local resources. In the end, CLN gave $7,000 for the land, which helped the community get an $11,000 allocation from their municipal village government…and then the local community and TEAM Nepal were able to bring in other donors for the remainder—which was significantly easier once they had guaranteed funding for over half of the money needed.
Nearly 4 ½ years after the earthquake, Batase has a beautiful new school…and hostel! Some children walk an hour or more each way to come to school from nearby villages without a secondary school. After class 5, they either have to walk to Batase every day or find a hostel and school somewhere in Kathmandu, which is far way and expensive for families. More often, it means children simply stop going to school. The hostel at Batase is an important addition for kids in secondary school. This prevents early dropouts and keeps children close enough that they can return home easily on weekends and holidays.

CLN is proud to be part of the success in Batase. The community and students have been thrilled to move into the new school which opened at the end of September. Donate now to help support the final piece of rebuilding the Batase School: replacing the computers lost in the 2015 earthquake!