As we enter the New Year, we hope you've been inspired by the stories of progress in Nepal. We continue to be impressed by the success of our local Nepali teams, and by the support we can provide–together with you–to people with lives so much harder than our own. It's been an incredibly rewarding experience this past decade, and we are ready for more!

On a personal note, we thought you'd like to know what's happening with the CLN team…
Deana completed her Somatic Coaching certification and continues to work with people across the U.S. to help them live happier and more fulfilling lives. In May, she guided the Snowman Trek in Bhutan…and even saw a snow leopard! Story here. When she wasn't working, she enjoyed swimming in the ocean for a week in Kauai and hiking the alpine valleys around Crested Butte. Over the holidays, she moved across the Golden Gate Bridge to Marin–still in the San Francisco Bay Area, but closer to the hiking trails, the ocean, and the trees. In 2020, Deana's going on a new kind of adventure: a 2-month meditation retreat. Then she'll get back to the Himalayas and trekking!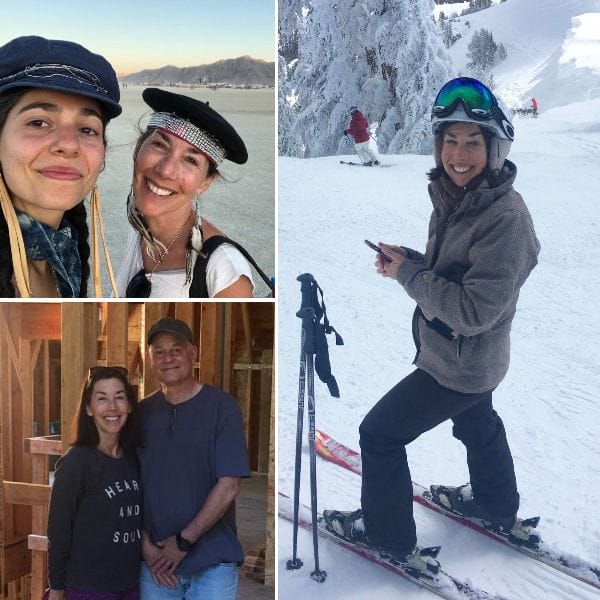 Nancy's year has been filled with travel and transitions! Having sold her family home in Tahoe, she and her husband have been busy building a home closer to the shore of Lake Tahoe, which they hope will be completed in June. Over the last year, they have been splitting their time between an airstream trailer outside of Tahoe and their home in Carmel while also visiting family and friends in Boston, Portland, Palm Beach, and Alaska. Nancy continues to be grateful for the blessing of living between the Sierra Nevada and the Pacific. Highlights of her time in this geography include skiing, hiking, paddle boarding, yoga, and Burning Man!
Jen's year was filled to the brim! She has two teenagers who play high school volleyball and participate in high school musicals, a vibrant three-year-old daughter who keeps everyone on their toes with her antics, and a career providing top talent to some of the world's most successful companies. Jen and her husband Erik slipped away for a romantic motorcycle trip around Italy last spring and later took the entire family to France, Spain, and Morocco. Their family will be expanding in March when a new baby boy is due to arrive!
We are excited to announce that we have a new team member at CLN: Bill Winfield! Bill has been a CLN donor for six years and has visited our programs in Nepal on five different trips. He has spent time helping out at the children's home by installing water storage tanks, developing a spring for garden use, doing general building and facilities repairs, and getting to know the children. He's also visited Batase and Terse schools, plus hiked through the coffee villages, listening to farmers talk about their crops and their lives. Since 2017, Bill has been instrumental in bringing new donors to CLN and raising money in other ways, like selling Nepali jewelry in his hometown of Moab, Utah. This year we officially asked him to join our team as an Advisor. He has a background in construction and has done relief work in both Nepal and the Philippines. He brings energy, know-how, commitment, and a deep love for Nepal to our CLN team. It's awesome to have him on board—Welcome Bill!

Wishing you each a bright and beautiful start to the New Year! Happy 2020!