On a more personal note, we want to share with you what's been happening in our lives this year. Wishing you health, happiness, and peace during this holiday season and throughout the new year!
Neel Thakuri (TEAM Nepal)
Neel's big and exciting news is that two of his three sons got married this year! Both were arranged marriages where Neel's wife searched for and chose the bride. The groom only met the bride-to-be ONCE before the wedding. That's the traditional Nepali way…and when the family makes a good match, it works out surprisingly well. The new couples all live in Neel's home—Samir and Anusa on the first floor, Sudip and Karuna on the second floor, and Neel and Goma on the third floor. Neel is very proud and delighted that the boys are so grown up—married and working in business now!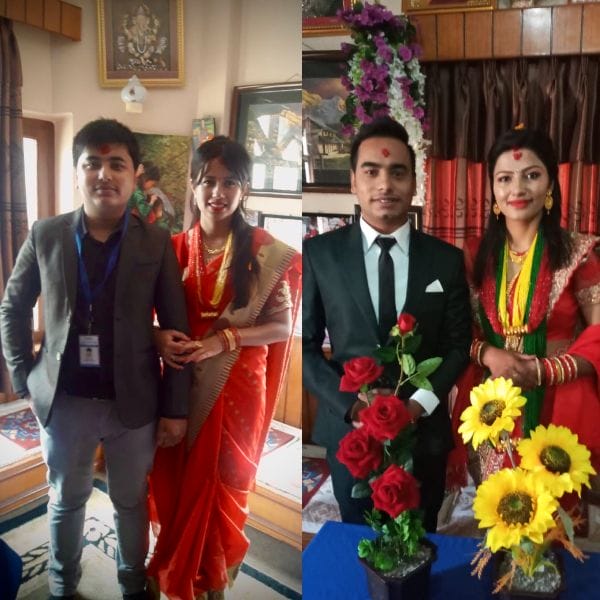 In between the two weddings, Neel contracted COVID in October. He was sick in bed for almost 10 days with fairly severe symptoms, but thankfully he recovered well. Because of this Neel stayed away from the children's home for a while, and Bikash, Neel's nephew and right-hand man at TEAM Nepal, went to the village to give the traditional Dasain blessing to all the children.
Neel has also had no business at his thangka (Buddhist art) shop since the worldwide shutdown began early this year and foreign travel to Nepal ceased. In the tourist district of Thamel where his shop is located, over 100 shops (more than 20%) have closed permanently due to the lack of business and high rents. Neel's thangka business has been open about an hour a day—just to clean the shop and see if there are any local customers (rarely). He's lucky, however, that his business partner owns the building, and they will survive the shutdown and the tourist downturn. He misses the visits and talks with all his foreign friends though.

Recently Neel was talking about future uncertainty and the reality of economic hardship, "I understand now. Today I have shoes, but one day maybe no shoes. It sounds easy to give up shoes, but practically, the ground is very hard every day." Right now however, Neel and all his family are doing quite well, and he's enjoying the peace of successfully putting two weddings behind him this year!
Parshu Dahal (Society Development Center)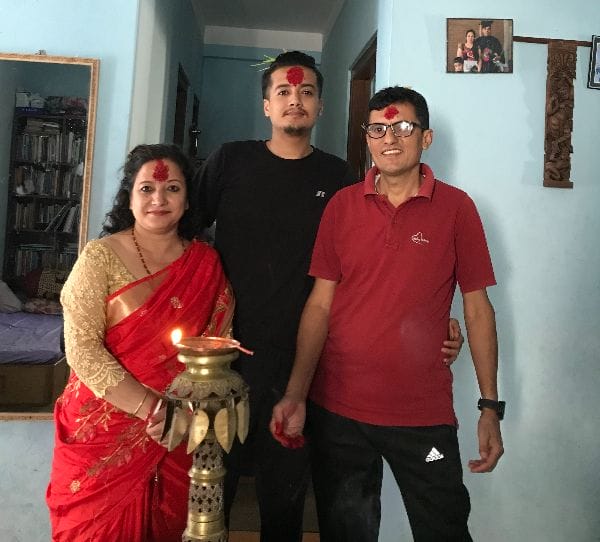 Parshu's son Pramit, who was born while Deana was in Nepal as a Peace Corps Volunteer, is now a sophomore in university and studying IT Networking. He has been studying at home for most of this year and taking his exams online.

In June, Parshu visited a regional agricultural office to reserve pecan seedlings for testing in a CLN demo garden. Walking down the slick, odd-angled, marble steps of the new building, he slipped and sprained his ankle badly—which put a stop on work for a few weeks. Parshu also tested positive for COVID in October, but he had very mild symptoms (tired, headache, sore throat, no trouble breathing). Fortunately, he recovered quickly, and no one else in his family caught it.

One highlight of the year is that Parshu has helped to arrange and finalize a massive project to bring water to drought-affected farmers near his home village. Between natural springs that dried up due to the earthquake and lower rainfall due to climate change, a whole swath of farms in the Chainpur area have had crops die as well as stands of bamboo and other plants and trees that traditionally flourished. In a massive undertaking, Parshu has worked with the government to gain approval of a USD $900,000 project to pump water up from the river to these dying villages. Even when he's not working with CLN, Parshu remains dedicated to the rural communities where he grew up!

Parshu says, "We are very grateful to the donors for so many years and for the benefit of so many farmers. Donors have also given us at SODEC the opportunity to work. They have supported our own skill development and organizational development. This enables us to stay active and to help others. Everyone gets benefited!"
Deana Zabaldo
Deana started the year with a long silent meditation retreat. When she went into retreat on Feb 1, COVID had barely made the news as something happening in a remote Chinese town. Completely isolated from news and from the world, she discovered six weeks later that the world had changed. The final two weeks of the retreat were canceled, and she came home on the day that lockdown started in California. Having effectively been in lockdown for a while on retreat, this was not a radical change at first. Over the following months, however, the isolation from friends and family was a big shift, as was the pain of witnessing both the health and the economic suffering of the communities around her, across the country, and across the world.
A resilient introvert, Deana planted a garden, went hiking and trail running, moved her coaching work over to zoom, and offered free community mediations and somatic sessions. The abrupt pause on adventure travel meant that Deana lost a portion of her work, including the much-anticipated Snowman Trek (postponed to Oct 2021, hopefully) and also the ability to visit CLN programs and friends in Nepal this year. Instead, this fall she escaped the intense California fires (and smoke-filled air) for mountains and clear blue skies on a socially-distant road trip through the Tetons, Western Colorado, Moab, Taos, and Santa Fe…and got to see the autumn colors of the aspen trees for the first time! She enjoys hiking alone and has been doing quite a lot of it, while finding creative ways to stay connected with family and friends. It has been a regular practice to keep discovering the right balance between safety, connection, public health, and personal sanity, but it's happening. Deana has been profoundly grateful to have love, friendship, and meaningful work in her life this year!
You can find a recent interview with Deana about her life and work on the Northstar Unplugged podcast: https://www.northstarsleepschool.com/deana-zabaldo
Nancy Porten
Nancy has been grateful for many simple blessings this year, even while missing spending time with extended family and friends. She and her family have been healthy, and her children have been able to continue their lives – one in medical school, one working from home in management at a teleservices company, and one raising a puppy (Bodhi) while rethinking her career. As with so many families, they have had to replace many of their usual get-togethers with calls on Zoom and FaceTime.
For Nancy and her husband Steve, the year has been centered around finishing their new home in Tahoe, with all the typical stresses that entails, and also a sense of satisfaction reaching the end of a project. She and her husband have been living in a temporary trailer in their airport hangar for the better part of the past two and a half years. Whenever she has found herself complaining about the lack of hot water or a shower, she has thought of her friends in Nepal and how gracefully they deal with daily adversity!
Nancy has been deeply grateful to be close to the mountains with open space and fresh air all year. In her free time, she's been swimming, skiing, hiking, snowshoeing, and sitting with friends– socially connecting and distancing on the shore of Lake Tahoe.
Jen Dudley
Jen and her husband Erik welcomed a new baby boy to their family in March. Ewan Alexander Tappenbeck was born right before the state of Colorado went into lockdown, so Jen spent her maternity leave with her husband and three children all at home (including two teenagers in remote learning). While it was wonderful having everyone together, it was not the quiet maternity she was expecting! With COVID limiting international travel, the family rediscovered the beauty of Colorado over long weekends to Telluride, Vail, Glenwood Springs, and Aspen.
Jen's daughter Alexis is in her senior year of high school and missing the normalcy of events that seniors generally look forward to their entire high school career. Like many families, Jen and her family have been finding new ways to have fun and replace the important milestones that both of her teenage daughters are missing. She and her daughters have found fulfillment and gratitude this year through their work with Changing Lives Nepal, dog rescue, and helping out local families in need. The family focus of giving time and energy to help make the world a better place has helped them all to stay happier, more balanced, and more positive this year.
Bill Winfield
Bill's year has held both blessings and loss. Bill had great fun with the extended visit of his 17-year-old grandson Garrett in Moab for the whole summer. Garrett learned much by working side-by-side with his grandpa every day. They also hiked many of the local mountains together, vying to be first to the top. (Garrett let Bill be first on occasion. 😉 Bill's mother then passed away in the fall. Bill shared his great love for Nepal with this mother. She had traveled all over Nepal through Bill's photos and stories, and she also gave her time and skills to help Bill's sister Mary hand-stitch 25 quilts for all the children at the children's home. Bill is looking forward to traveling back to Nepal soon and says that each journey continues to bring greater joy and meaning to his life!