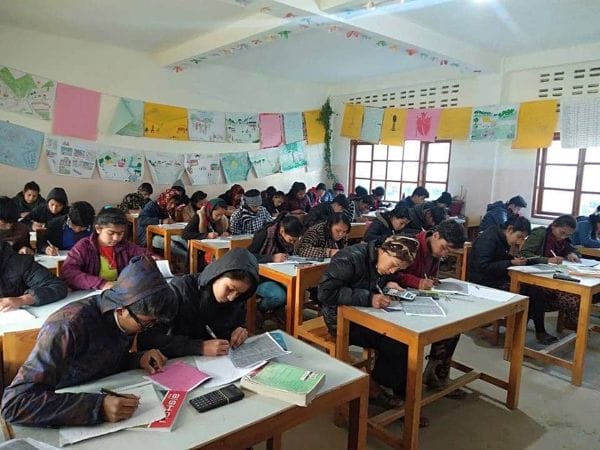 As with schools everywhere, Terse (TER-say) School had its share of challenges this year…along with some success. We want to share with you the impact of COVID on this school, and we invite you to help us complete a hostel for 48 children from distant villages! We need beds, mattresses, furniture, kitchen supplies, and more to complete the school hostel.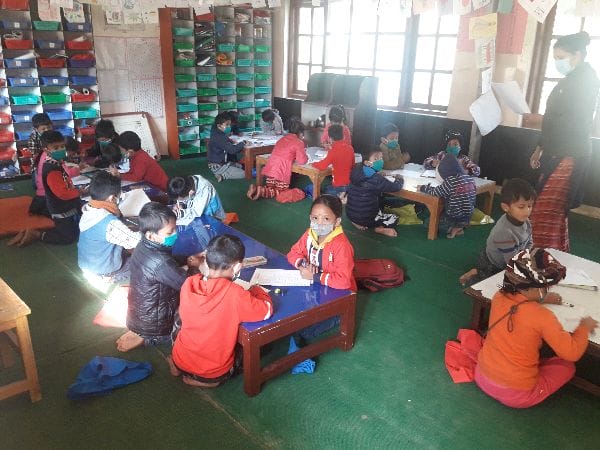 Nationwide school closures in the spring meant that Terse did not run most of their regular exams. Students were automatically passed to the next grade, and while they stayed at home, teachers kept working—visiting nearly every student at home, distributing books for the next grade, and assigning homework. Then classes were held outdoors for a few weeks and finally moved inside with students attending on rotation…until there was a nationwide closure again.
In the spring, Terse lost all of the regular income from exam fees. TEAM Nepal, our local NGO partner who helps to supplement teacher salaries at Terse, also lost its usual summer student volunteer programs and the associated income. With these economic setbacks, the school had insufficient funds to pay teachers' salaries. The school owed teachers more than 3 months of pay.

At CLN, we are fortunate to have a long-time donor who was inspired to donate the teachers' back pay in honor of his mother, Bina Guha, who passed away in 2019. Bina Guha lived in India her entire life and was dedicated to better education for village children. What a beautiful way to honor and celebrate her life by supporting the teachers and students at Terse!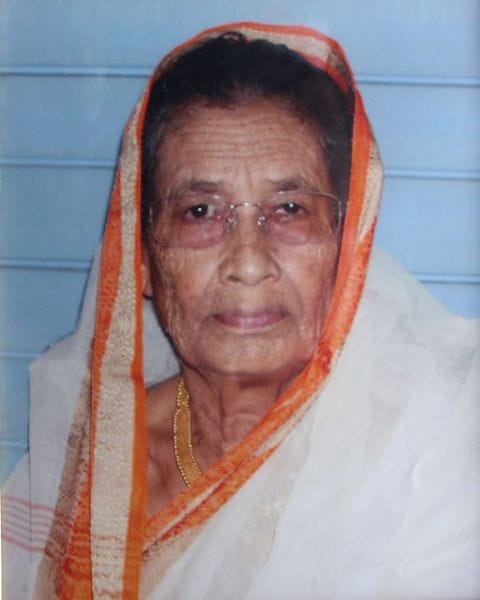 The other impact of COVID at Terse is a big increase in student enrollment. Families across Nepal have lost their income as remittances, tourism, and retail business have all evaporated. Overseas workers returned home in the spring and have been unemployed all year, as has almost everyone in the tourist industry. Many parents have pulled their children out of boarding schools & private schools to send them to government schools like Terse. At Terse, we have about 670 students right now (up from 450 students last year)! Neel has been lobbying the local government for additional support, and Terse received some school improvement funds, its first ever school bus, and partial funds to construct a hostel which is essential for children who live more than an hour's walk from the school (in areas with no roads or very rough dirt roads).
For the hostel, Terse has completed 9 rooms (1st floor, boys) and is starting construction on another 9 (2nd floor, girls) with recently approved government funds. This will house 3 children per room for 8 rooms (24 boys and 24 girls), plus an additional room on each floor for the supervising teacher. The hostel will allow students from farther villages to study at lower cost—about half as much as it currently costs if they stay in a rented room in the nearby village of Talamarang. The hostel will also include better supervision than in town. This is a great opportunity for students and will generate a small amount of regular income for the school.
At CLN, our amazing donors recently gave funds to construct the hostel kitchen and dining space because government funds covered construction of the children's rooms only. What the Terse Hostel needs most right now is supplies for the hostel rooms. These supplies include children's beds, blankets, sheets, mattresses, cups/plates/bowls, dressers, curtains, and floor coverings. The cost is ~$6500 total for all 48 children (and 2 staff/teachers).
At school, the student body has been split into groups, and they attend school at different times/different days to reduce contact and density, supplemented by online learning and/or take-home assignments.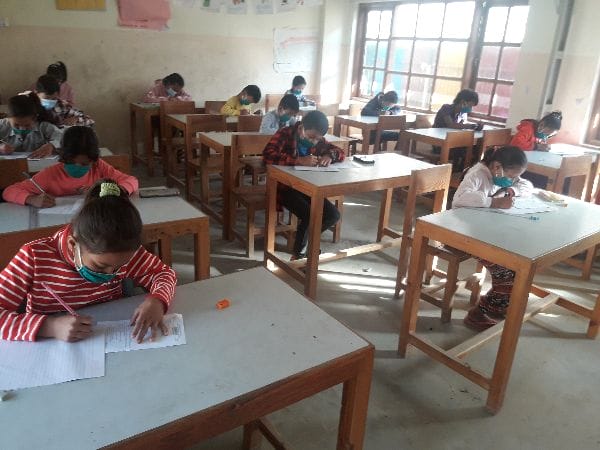 The best news of the year is that students graduating high school last year were able to complete their exams in the spring 3 days before the COVID shutdown…and Terse ranked #1 in the district, with the highest exam scores for graduating students among about 300 schools. This is in part due to the 6-month tutoring class we funded for all 55 students. Additional study time and instruction made a big difference, and we're excited to congratulate these students on their hard work and success!!
Terse is an unusual school in that it provides a relatively high quality of education for a rural area. It's regularly one of the top schools in the district in terms of exam scores, and it's also well-respected for having good specialized science, math, and English-medium teachers in addition to the regular government-supplied teachers. Help us continue to support the Terse school and its students as we work to complete a much-needed hostel!