Children & Education
Our work to support children and education in Talamarang has been particularly important this year. COVID brought children and families home to remote villages because of the economic downturn and virus spread in Kathmandu, which has meant increased enrollment at the schools we support.
We completed a new school hostel at Terse School for students from remote villages. The new hostel houses 48 children (half boys / half girls) plus supervising staff. The children are generally older students who do not have access to higher grades at their village primary schools. The cost and distance of grades 6-10 is a key factor in why only 64% of students in Nepal ever complete high school (Grade 10). Providing an affordable hostel for students to live and study–close enough to home that they can still visit family and attend seasonal events and holidays–is integral to helping children complete their education.
We have 19 children at our Children's Home right now, and we continue to provide them with school fees, uniforms, books, healthy food, and a loving environment. The kids help each other with homework, help around the house with chores, and play in the garden and fields. They excitedly went back to school this fall on a rotating schedule to reduce COVID risks. The children also have supervised study periods for homework back at the house.

At our children's home, four more children successfully graduated grade 10. Grade 10 is the official end of high school in Nepal. Two of our children have left to work and two more have chosen to stay and study in grades 11 & 12 at their local school. We will continue to support their education.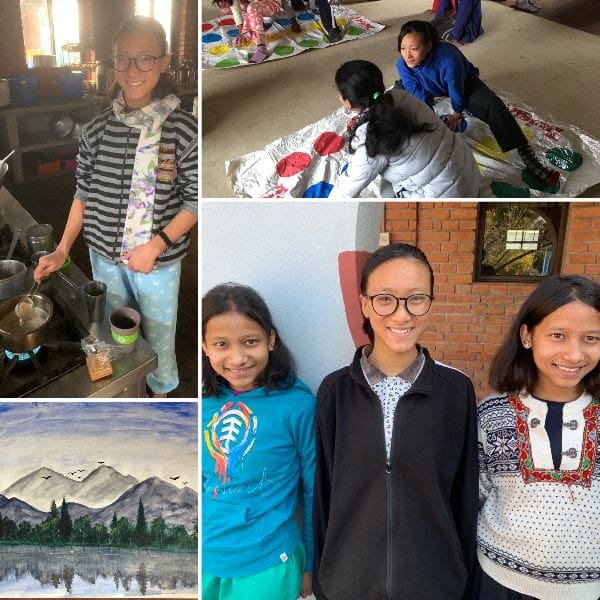 Maya continues to live and study at a home for children outside of Kathmandu, in a quieter part of the valley. She has spent most of the year studying at home due to COVID, as well as practicing her painting. Maya is 14 years old now, studying in Grade 8, and is happy to be finally back to school and visiting with friends. She is pretty average in her studies, but very artistically inclined. She loves to draw and paint and has mentioned she wants to do photography. Maya has seemed to benefit from the extra attention and extra time at home during the lockdown. She is still going to regular counseling, seems more confident, and no longer has persistent nightmares. The Director reports that lately Maya sings around the house and says she likes singing at home because she is happy.