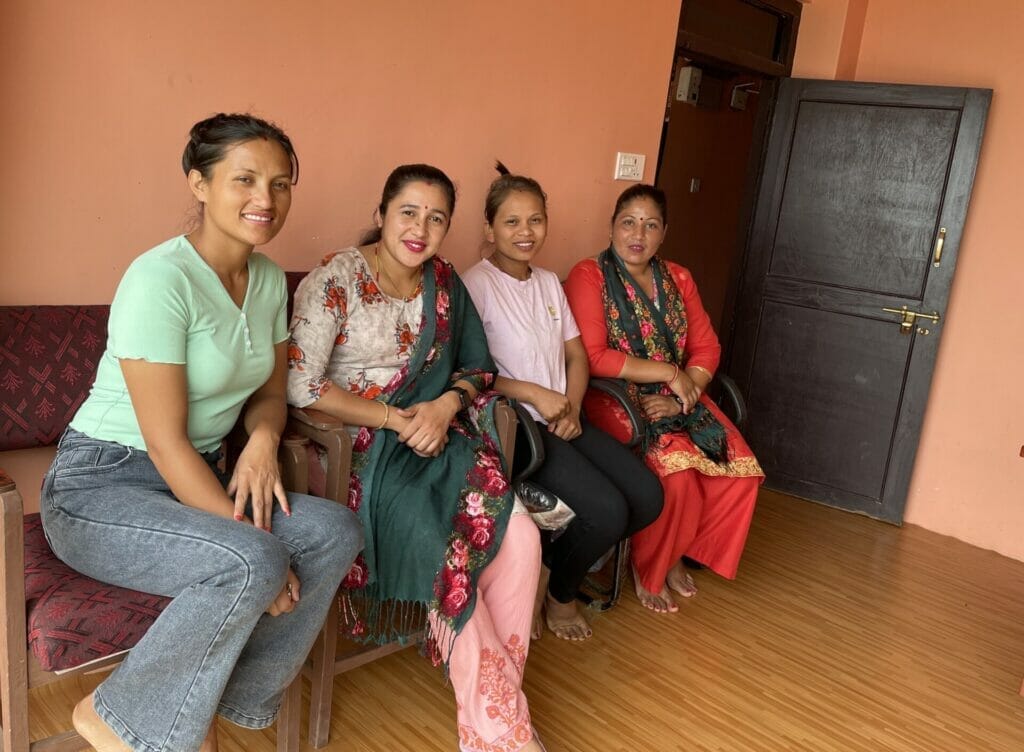 As our Safe House opens its doors, we want to share with you the stories of some of the women we serve…
Tari was raped and reported it to the police. She stayed 5 days at the new Women's Safe House while the police processed her case and found the perpetrator to arrest him. We were able to offer her counseling, support her with medical care at the local hospital, and offer safe shelter and meals while she was away from home. Tari is now back home with her parents, and the perpetrator is in prison. In the past, women like Tari would have had nowhere to stay if they traveled to the District Headquarters where the District Police Office is located. Safe shelter historically has been a serious barrier to women reporting crimes and receiving care.
Double Your Impact: All Safe House donations up to $15,000 will be MATCHED
by All The Sky through Dec 31!
Our new Women's Safe House, Samridhi Ghar (House of Prosperity), opened in May. Its mission is to provide safe space and counseling to victims of domestic violence, rape, trafficking, and women suffering from mental illness. This innovative program is the first of its kind in this remote, mountainous region of Eastern Nepal. Our planning for the Safe House included long-term sustainability built in from the start by negotiating written policy agreements and budget allocations with the local government and regional hospital. The local municipal government continues to provide financial support to the Safe House and sees that it is running effectively and meeting the needs of women in the community. We are also beginning to work with the smaller regional governments throughout the district to enlist their financial support for the Safe House over the longer-term.
Syabun is just 19 years old and already the mother of a 2-year-old girl, Sibu. Married young, her husband abandoned her after she had their baby, and she was left alone with his family. In Nepal, married women traditionally move into the home of their husband and his family. Syabun's in-laws abused her physically and mentally. She has been staying at the safe house for 1 month and has suffered from a lot of mental and emotional distress. Syaburn's case was more than our on-site counselor felt she could address alone and the District Hospital does not have a psychiatric doctor, so we connected her with a doctor in Kathmandu to support her through video counseling calls.
Our Safe House has been conducting community education through the local FM radio, publishing public notices in local government offices, and speaking at community meetings. We have developed content that answers 4 questions in simple, local language: What is a safe house? What services does it offer? Who is eligible for services? What is the process to get services? Based on the success of our community outreach, we now have women and officials contacting the safe house almost daily to get more information. We are bringing awareness to women in remote regions who are often uninformed about the services and legal protections available to them.
Aruna was the first official beneficiary of the Safe House. She is from a small village in the very remote north part of Sankhuwasabha District on the Tibetan border. She traveled to the district headquarters and filed an official case with the police, reporting being abused and beaten by her husband for several months. Police previously had nowhere to shelter a woman, even for one night, so reporting abuse was especially difficult for women from remote areas. Aruna was referred to the Safe House by the District Police, where she stayed while the case was in process. Samridhi Ghar provided counseling for her, and the police brought her husband to the district police post where they interrogated him and also reviewed the law and the repercussions for abuse with him. After discussions with both husband and wife, the police negotiated a reconciliation between the couple where the husband asked for forgiveness, signed a legal commitment to not hit his wife, and she returned home with him. Reconciliation is a common initial approach in Nepal where divorce is still uncommon and where women have little property or financial rights if they leave their husband. They signed a document that can also make it easier to prosecute a second offense. With the opening of the Safe House, women are more able and empowered to report abuse… and that's an essential deterrent to help reduce violence against women and to provide much-needed support to women at critical times.
Across the world, women are victims of domestic abuse, trafficking, rape, and other forms of violence. It's sadly still true in the U.S. and still true in Nepal. One challenge in the remote regions of Nepal is that isolation and lack of support can perpetuate gender-based violence. The reality of these women's stories and situations from rural Nepal helps underscore the need to be reaching beyond Kathmandu with support and services.
Proud to be partnered with Mountain Madness & All The Sky in this initiative! Deeply grateful also to our Founding Members who had faith in the idea and got the program launched!
Please note: All the women's names have been changed for privacy and protection.